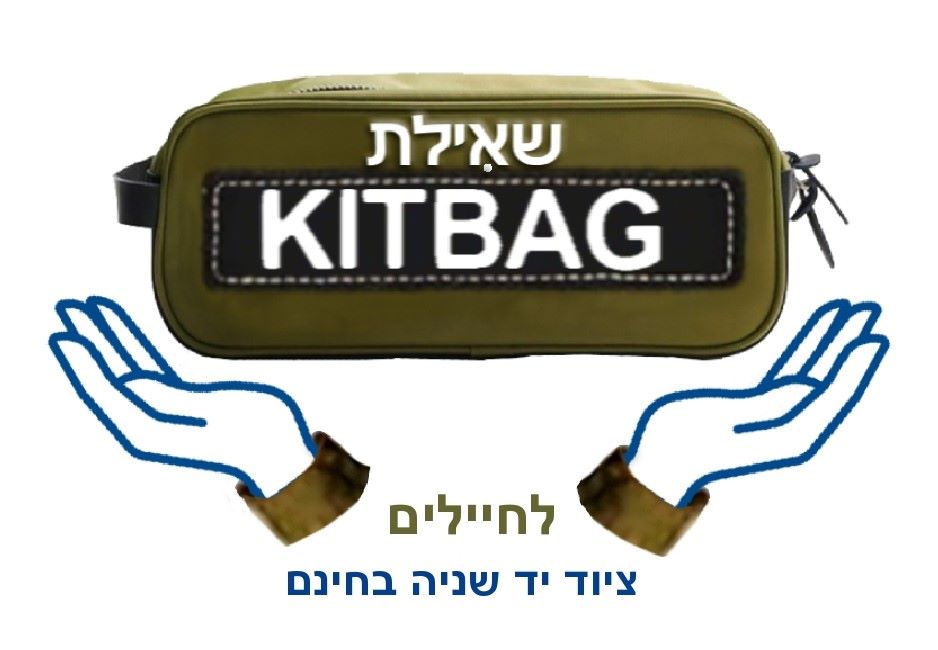 Introducing our newest project
SHE'ILAT KITBAG
Providing assistance to all IDF soldiers who request it so that they may serve with dignity.
When soldiers enlist, they receive a list of personal equipment that they need to purchase — but not every soldier has the means to cover this cost.  To us, it doesn't matter if the soldiers come from a low socio-economic home, if they are lone-soldiers or just trying to support themselves.  Our mission is to ensure that no soldier feels the financial burden or stress when enlisting so that they can serve with dignity and pride.
SHE'ILAT KITBAG provides soldiers with what they need to supplement what they receive from the army — gently used or new socks, shirts, thermal clothing, fleece jackets and more!
All at no cost!
Our network of volunteers throughout the country — from Metuallah to Eilat — collects used supplies from recently released soldiers and makes them available to those in need.
We take pride in our positive environmental impact by promoting the reuse of perfectly good clothing.  If we don't have a specific item, we provide funds for the soldier to purchase what is needed.
SHE'ILAT KITBAG is a win-win for everyone!!
© 2022 All rights reserved. Yashar LaChayal.
Yashar LaChayal is a 501c(3) non-profit public charity
© 2022 ישר לחייל
התמונות המוצגות להמחשה בלבד
קרדיט צילומים: עמותת ישר לחייל, דובר צה"ל