Gavi Walzman's Bar Mitzvah Project
Gavi is Shooting Hoops for Heroes!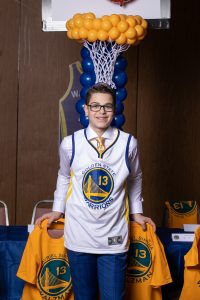 Most of you know that I love playing basketball, and for the past 2 years I have had a lot of fun participating in special basketball tournaments that raised money for organizations in Israel. For this year's tournament, I started collecting and donating money to the Yashar Lachayal organization. Yashar LaChayal brings soldiers in the Israel Defense Forces what they need, when they need it. They always look for ways to provide support and comfort to the soldiers who put their lives on the line to protect our country.   I personally plan to donate at least 10% of all of the money I receive for my bar mitzvah to this amazing organization, as well as include them in the future when I fulfill the mitzvah of maaser. Gd willing, my family will be visiting Israel this summer, and hope to visit some of these soldiers and say thank you in person. I thank you all in advance for your support for this very important organization.
Gavi has raised $2,607.00 of the $2,500.00 he is trying to raise for his Bar Mitzvah!
Mazal Tov Gavi! May you continue to be a Ba'al Tzedaka V'Chesed as you grow in Torah and Mitzvos and inspire others to do the same.
SK
Sue and Richard Kelin
$180.00
In honor of the bar mitzvah of Gavi Walzman
DF
Dr. and Mrs. Herbert Faleck
$360.00
In honor of the Bar Mitzvah of Gavi Walzman and his fundraising efforts.
Great job Gavi! Can't wait to go to Israel together!
Great job, Gavi- so proud of you!
Join me in supporting IDF soldiers!
© 2019 All rights reserved. Yashar LaChayal. 
Yashar LaChayal is a 501c(3) non-profit public charity
© 2019 ישר לחייל
התמונות המוצגות להמחשה בלבד
קרדיט צילומים: עמותת ישר לחייל, דובר צה"ל