Palchan Nachal Gym Campaign
Help Palchan Nachal build a new gym!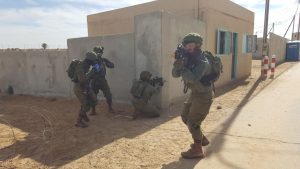 "Palchan Nahal" was founded in August 1992 as an elite reconnaissance and demolitions unit for the "Nachal" regiment. Since its founding, the unit has taken part in a wide range of operations in Yehuda and Shomron, Gaza, Lebanon and more. Many of the unit's soldiers have fallen in the line of duty, particularly in "the helicopter disaster" (Ason HaMesokim) in February 1997. "Palchan Nachal" is an elite voluntary unit that today takes part in operations near all of Israel's borders. 
These brave soldiers deserve a new gym. Help us give them one!
Funds raised in this campaign will go towards Palchan Nachal's gym and the Base Enhancement Project.
We have raised $818.00 of the $5,500.00 we need for the new gym!
Join me in supporting Palchan Nachal!
© 2019 All rights reserved. Yashar LaChayal. 
Yashar LaChayal is a 501c(3) non-profit public charity
© 2019 ישר לחייל
התמונות המוצגות להמחשה בלבד
קרדיט צילומים: עמותת ישר לחייל, דובר צה"ל